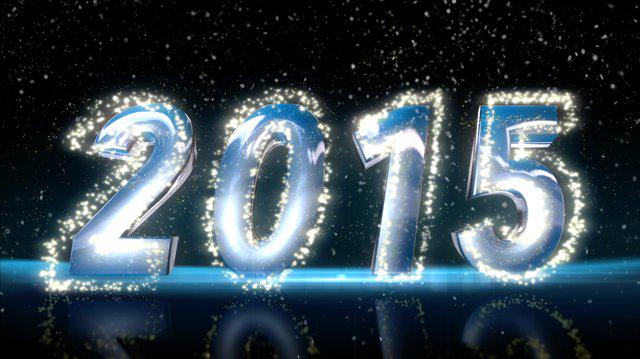 Commentary By:  Gordon King
Welcome into the New Year!  A happy new year?   We will just have to wait and see.  Things don't seem to be starting out so well. 
Illness and disease are spreading, global economies are falling, natural disaster and severe weather patterns continue to escalate, evil and wickedness is not slowing down, Christians are being persecuted, and ISIS continues on its rampage.
The world is a mess, it is upside-down, inside-out, and full of deceit and wickedness!
This escalation and intensity signifies the closeness to the soon return of Jesus Christ to earth.  These are all warning signs which Jesus Himself told us to be watching for.  If we read and believe what the bible tells us, then we already know that the world will get much darker as time moves on.  This tells me that the year 2015 will be worse than the previous few years have been.  Do you believe this or do you think that will we have a break in the evil in the world, the increase in natural and man-made disasters?
Whatever you choose to believe, we cannot change what will happen.  It is written by God, that it will happen and it will.  We can believe it or not, but it will happen.  We can close our eyes, shut our ears, we can bury our heads in the sand, but it will still happen.
We should not deny the signs of the times, nor should we fear them.  Unless of course you are not a born again Christian.  As a Christian, as a believer in Jesus Christ, we should be excited for His return.  We should be waiting eagerly for the rapture of the church.  We should be sharing the "Good News" about Jesus Christ to a lost and hurting world.
The "New Year", most of the world celebrates a "Happy New Year".  But is it, or is it just another reason to party?!  Another reason to throw all caution to the wind, to do whatever it is that they desire to do?  Another reason to celebrate "humanism" and "hedonism"?  Another reason to rebel against God Almighty?
For the world the new year is rebellion against Jesus Christ, for the Christian the new year is another year closer to the return of their Savior!
Let us not fear, let us not be worried, for we will soon be reunited with our Creator in heaven.  Ours is not to question why, but to plant seeds in the minds and the hearts of the unbelievers.  To do our Father's will on earth as it is in heaven. 
The "New Year" a time for all believers to celebrate the close return of Jesus Christ!  Look up at the things of heaven, of our eternal destiny.  Keep your heart and your mind focused on the things of God.  Be steadfast in your walk with the Lord.  When you fall, shake off the dust and keep moving forward.  Patience, perseverance, courage and strength are what is needed to remain holy, righteous, and Christ-like.
God bless my friends, and may the New Year bless you with peace, comfort, joy, and abundance from our Lord and Savior, Jesus Christ!