Commentary By: Gordon King
Perspective is how we see the world, how we see God, how we view things in general.  Our viewpoint is not only what determines our ideology, but what determines our path.  The directions we take in our daily lives.
Our view of God and the bible will either lead us down the right path or steer us off of the pathway to righteousness.  It will lead us to eternal life or it will lead us to eternal destruction.  So our perspective is vitally important not only while we are physically alive, but also in the "hereafter".  It is written that we shall now store up for ourselves eternal treasures in heaven.
The world view is that of pleasure, of self, and of monetary gain.  While the Christian view is that of spiritual things, of heaven, and of God.  But, do all Christians think alike?  Do all Christians take the bible literally?  Do all Christians take the whole bible for the truth?  Or do some take only bits and pieces to suit their own needs?
The answers to these questions are vital in our walk with God, and quite possibly to our eternal salvation.
As Christians, we should take the bible literally, at its word, and with the belief that it is 100% inerrant.  If this is not the case, then why believe any of it?  Why place your truth and faith in a God that is only partially true?  If the bible, God's written word, is not without a doubt, 100% true and accurate, then why should I believe it?  Why should I believe in the virgin birth, the death and resurrection of Jesus Christ, or in eternal salvation?!
If the bible is 100% accurate and true, which I believe with all of my heart that it is, then we as Christians should not only believe it, we should believe "ALL" of it!  We should study the entire word of God, not just what we want in order to suit our earthly desires and wants.  Not to fashion our physical existence into being one the way we see fit.  On the contrary, we should read, believe, and live the word of God, the way God sees fit, not us!
God's ways are not our ways, and His thoughts are not our thoughts.
Isaiah 55

:8-9
"For My thoughts are not your thoughts, Nor are your ways My ways," says the Lord. 9 "For as the heavens are higher than the earth, So are My ways higher than your ways, And My thoughts than your thoughts."
God is much, much greater than us.  His ways and His thoughts are much, much greater than ours.  Let us not forget that!  He is the Creator and Sustainer of "ALL" things!
The world views the bible as fairy tales, as merely stories and fables, as erred and flawed.  They see God's wisdom as foolish and nonsense.  They view their own wisdom and knowledge as supreme and definite!  Oh how they mislead and twist the truth.  How they undermine the works of the Almighty One!  Theirs is the workings of the Devil, demonic and spiritually corrupt, evil and wicked are their ways.
As Christians we must be sure to study the "entire" word of God, for it is written by God, Holy and Righteous, Pure and True.  To omit any of the bible would be to omit the wisdom and knowledge of God.  God gave us the entire bible as a guide for us, as His knowledge to us, and for our own good.  It was written as a blessing to us.  To omit any of it, to not study His entire word is a sin in and of itself! 
Yet, knowing these things, there are many believers who do not, who will not for some reason, study the entire word of God.  They fear many of the things written in the bible, they choose not to believe much of scripture.  For instance the book of Revelation.  There are way too many Christians and churches who will not study this book.  Yet, it is one of the most important books of the bible!  God tells us that whoever reads, hears, and keeps this book will have a special blessing upon them.
Revelation 1:3
"Blessed is he who reads and those who hear the words of this prophecy, and keep those things which are written in it; for the time is near."
The bible warns us of what is coming upon the world, that our time is short, and the time of His return is close at hand.  In order to properly save the lost we must tell them of what is coming.  We must let them know of the impending disaster that will soon come upon the world.  By omitting portions of scripture we are doing a disservice to the lost and to God.  We must let them know of not only the free gift of eternal life and what Jesus has done for them, but also of what will happen to them if they do not accept Christ as their savior!
Many, many Christians do not want to hear that we are living in the "end times".  They would rather live in the world, seeking the pleasures of this world, and continuing life as usual.  They do not believe, or choose not to believe  that we are close to the return of Jesus Christ!  They do not earnestly desire the coming of our Lord and Savior.  The apostle Paul tells us that there is a reward for those who eagerly await His coming.
2 Timothy 4
"Finally, there is laid up for me the crown of righteousness, which the Lord, the righteous Judge, will give to me on that Day, and not to me only but also to all who have loved His appearing."
So although there are many, many believers who do not believe in all of these things, they are saved.  Yet, in heaven we shall all be placed into different positions, not all of us will be given the same status or level of authority.  It all depends upon what we have done here on earth, in the name of the Father, in the Father's will.
Matthew 5:19
 "Whoever therefore breaks one of the least of these commandments, and teaches men so, shall be called least in the kingdom of heaven; but whoever does and teaches them, he shall be called great in the kingdom of heaven."
Matthew 16

:27
"For the Son of Man will come in the glory of His Father with His angels, and then He will reward each according to his works."
Revelation 22

:12
"And behold, I am coming quickly, and My reward is with Me, to give to every one according to his work."
2 Corinthians 5

:10
"For we must all appear before the judgment seat of Christ, that each one may receive the things done in the body, according to what he has done, whether good or bad."
Psalm 18:20
"The Lord rewarded me according to my righteousness; According to the cleanness of my hands He has recompensed me."
1 Corinthians 3

:13-15
"13 each one's work will become clear; for the Day will declare it, because it will be revealed by fire; and the fire will test each one's work, of what sort it is. 14 If anyone's work which he has built on it endures, he will receive a reward. 15 If anyone's work is burned, he will suffer loss; but he himself will be saved, yet so as through fire."
Good works will not get us saved, they will not get us into heaven, but if you are saved and do good works from the heart, in God's will, then you will store up for yourself treasures in heaven.
Matthew 6:19-21
"Do not lay up for yourselves treasures on earth, where moth and rust destroy and where thieves break in and steal; 20 but lay up for yourselves treasures in heaven, where neither moth nor rust destroys and where thieves do not break in and steal. 21 For where your treasure is, there your heart will be also."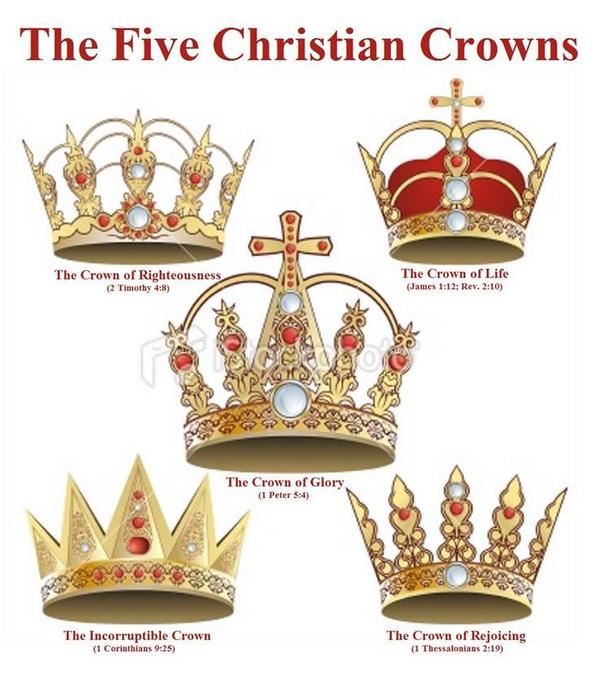 The Lord will reward us with many crowns, crowns of which I believe will carry with them different levels and positions in heaven.  The bible speaks of five crowns to be awarded, The Imperishable Crown, The Crown of Rejoicing, The Crown of Righteousness, The Crown of Glory, and The Crown of Life.
1 Corinthians 9:24-25
"Do you not know that those who run in a race all run, but one receives the prize? Run in such a way that you may obtain it. 25 And everyone who competes for the prize is temperate in all things. Now they do it to obtain a perishable crown, but we for an imperishable crown."
1 Thessalonians 2:19
"For what is our hope, or joy, or crown of rejoicing? Is it not even you in the presence of our Lord Jesus Christ at His coming?"
2 Timothy 4:8
"Finally, there is laid up for me the crown of righteousness, which the Lord, the righteous Judge, will give to me on that Day, and not to me only but also to all who have loved His appearing."
1 Peter 5:2-4
"Shepherd the flock of God which is among you, serving as overseers, not by compulsion but willingly, not for dishonest gain but eagerly; 3 nor as being lords over those entrusted to you, but being examples to the flock; 4 and when the Chief Shepherd appears, you will receive the crown of glory that does not fade away."
James 1:12
"Blessed is the man who endures temptation; for when he has been approved, he will receive the crown of life which the Lord has promised to those who love Him."
There are many different reasons to study "ALL" of God's words.  For one thing, that is why He gave it to us.  We are also to be aware of when the end times are upon us, so that we may be ready, and to warn the world of the soon coming wrath of God.  To spread the gospel, to save a lost world.  To encourage and edify one another.  And to store up treasures in heaven.  Not all of us will have the same rewards, not all of us will have the same level of authority in heaven.  We will be ruling and reigning with Jesus Christ, not only here on earth but also in heaven above.
Listen to the Lord God, hear what He has to tell us.  Read the whole word of God, don't just pick and choose!  If you are a Christian and question whether or not we are living in the end times, that the return of Jesus Christ is soon, then I urge you to check your heart.  Check your relationship with Jesus, God Almighty!  Make sure what you claim is really what you believe.  There are many who will say "Lord, Lord", yet do not know Christ!

The times are upon us, the end is near.  No one knows the day nor the hour, but we shall know the season.  It is commanded of us by our Lord to know the season.  To be watching and ready.  Are you ready?
God Bless my friends!  May the peace and comfort of Jesus Christ be upon you!